National Championship race report
This year I decided to do 5 National Championship events. The road race, the Criterium, and the time trial along with the individual Pursuit at the track championships.
Results:
National time trial championships 5th Place.
National Championship Criterium 6 place.
National Championship individual Pursuit track championships 3rd place.
National Championship road race 21st place.
National championships 500m time trial. 20th Place.
This is the first time getting on the podium for my masters cycling career. Needless to say I am thrilled. I will give you a brief rundown of the races now: The track championships was held this week in Pennsylvania while the road races were held in mid-june in Georgia.
Road National: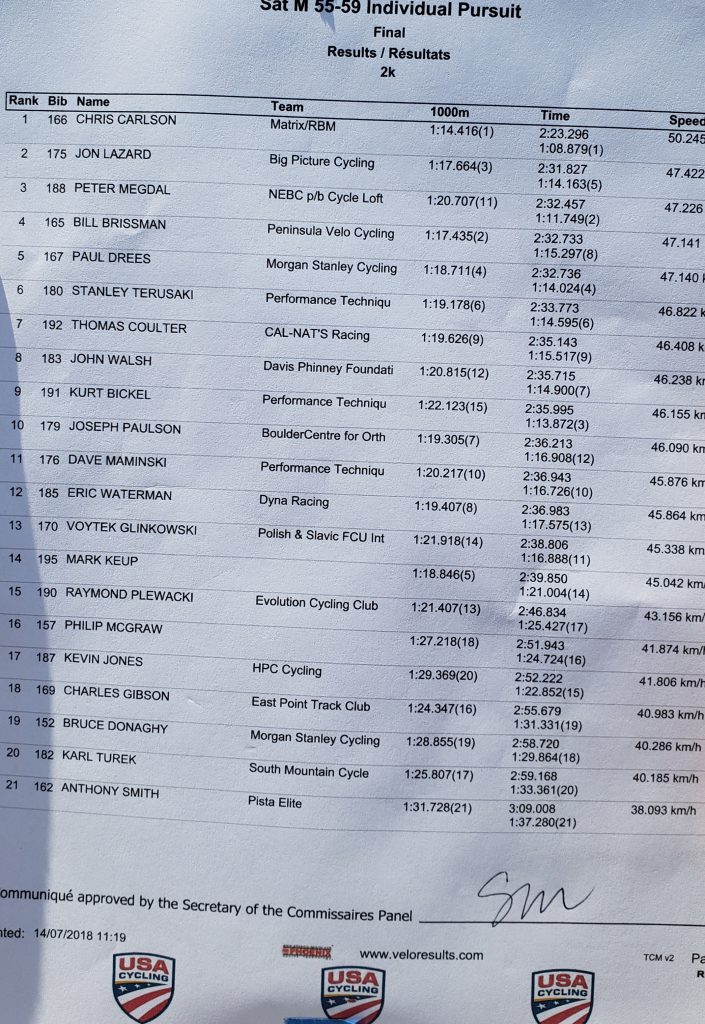 The temperatures were running at 100 degrees heat index for all of the races in Georgia and it was very difficult even though I tried to acclimate in a sauna trying to get used to the heat... it didn't seem to work. I was overwhelmed by the heat during the time trial which is approximately 20 miles.
I still overcame the Heat and managed to pull out a 5th Place. I rode the race on a fixed gear track bike. That was very difficult.
The road race was terrible, I showed up late because I didn't understand how to read a clock and almost missed my start and ended up cramping to get 21st place which was a miracle.
The Criterium is very interesting because I'm afraid of crashing so I decided to sit back in the back of the pack and wait to see what happened. The pace average about 27 miles an hour with six sharp turns. That would translate close to 30 to 31 miles an hour on a flat oval. Unfortunately a four main break got away with Hunter East who is probably the best Masters athlete I've ever seen in my life. I looked up his race results and he's been routinely winning Pro races at the age of 55. Hunter ended up winning both the road race and Criterium. I ended up in a Chase group with Chris Carlson to come within 6 seconds of the Breakaway. I sprinted for 5th place in a two up Sprint.
The road race and Criterium both had about 70 National caliber cyclist attending while the time trial had 35 Riders-Including 2 New England riders in my age group one of whom is the multi-regional time trial Champion Sam Morris. I ended up placing a minute and a half faster than Sam on the course ...the heat was killing everybody. Two Riders had heat stroke in end up in the back of an ambulance.
Track Nationals in Pennsylvania:
This is my first attempt at a track race in my entire life- in practice I was doing pretty good times so I figured I'd give it a shot. I certainly found out that I'm no good at the 500-meter race where I was 5th from last place and my legs are very sore but the next day but I tried the individual Pursuit where I took third when a single second separated five Riders. With a Little bit of practice I think I can move up at least one spot.