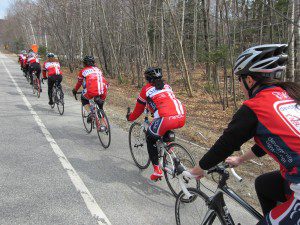 Date/Time: Starting Tuesday May 3rd at 6:00 p.m.
Starting Location: Lexington Center at the Battle Green (Junction of Mass Ave and Bedford Road)
Ride lengths: 20-21 miles for the 12-17 mph groups and 26 miles for the 17+ mph groups
About our Ride:
The Northeast Bicycle Club (NEBC) is offering weekly paceline rides to the women of the Greater Boston cycling community. Our rides will allow women of various levels to learn and/or work on improving paceline skills. This is an opportunity to ride in small groups with female cyclists of similar abilities.
Every week there will be a clinic group (13-15 mph average pace) focusing on learning group riding skills, riding in the draft, and taking your turn at the front. The more experienced riders will separate into speed groups, average speeds of 15-17, 17-19, and 19+ mph. This is an opportunity to ride in small groups with cyclists of similar abilities. All groups will practice riding in smooth, steady pacelines. This is a NO DROP ride, with the exception of the 19+ group.
The ride meets at the Battle Green in Lexington Center and departs promptly at 6:00pm (please arrive by 5:45pm to sign-in). We will be using the same loop every week. All non-club members are required to sign a waiver before participating in the ride!
What to bring on the ride:
Road bikes and helmets are required for this ride! (this means no mountain bikes, hybrids, aerobars or TT bikes)
Please also bring, at least one water bottle, spare tube (which fits your bike), pump (or C02 cartridge & inflator), tire levers, and blinky lights in May and August.
You do not need to know how to change a flat tire, but you should have the tools on hand so that others can assist you.
Reminders:
There is no cost to participants, but women only please, and you do not need to be an NEBC member to join us. This ride is not for mountain bikes or hybrids. Tri-athletes, please remove aero bars for group riding.
Cue Sheets and Maps:
NEBC-Paceline-Clinic-Route Cue Sheet

Please contact nebcwomensride@gmail.com or visit our Google Group for more information.
Please read and sign the waiver below.
NEBC Online Waiver