Our History
Founded in 1957, by a small group of racers (Dick Ring in the picture above) intent upon promoting and growing the sport of bicycle racing in Greater Boston, the Northeast Bicycle Club has outlived equipment fads and life-style changes, persisting as one of New England's oldest racing clubs. The founders' success is evident today in the proliferation of opportunities which range from a full calendar of Citizen races to national caliber competition such as the Fitchburg and Killington Stage races.
NEBC's basic philosophy is rider development. More than one rider has entered the club as a junior, performed well in club training rides and local races, eventually becoming a well respected senior category rider, and finally continuing their development by moving beyond club racing. NEBC is constantly striving to find the next generation of racers, provide them with the basic skills, and to infect them with a lifetime enthusiasm for cycling. Names and faces change, but the program keeps working.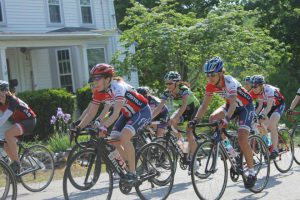 NEBC bases its program upon a complete set of USA Cycling (USAC) teams, covering all age groups, men and women, each with its own team captain. We encourage all members to join one of these teams and we make room for all who are willing to participate. There are no hard and fast rules about who trains with whom, and riding with more experienced riders is strongly encouraged. In this way, we quickly weave new members into the club's fabric, giving them experienced club riders to lean on and learn from, and instill early on a sense of racing as a team sport.
During the racing season, April to September, NEBC hosts a full calendar of weekly events designed as an integrated training program to produce well-rounded skills.
Membership is in excess of 220 riders; more than two-thirds being USAC licensed. Women constitute about 21% of the club membership. NEBC members come from all walks of life, including engineers, architects, lawyers, doctors, accountants, clergymen, students, teachers, shopkeepers, business people, etc.
Every Spring NEBC hosts a "New Racer Development" clinic to introduce the technical aspects of bicycle racing to newcomers. This four week clinic is coached by experienced racers and is designed to provide the basic skills necessary for newcomers to become comfortable with speed and to rider predicably in close quarters.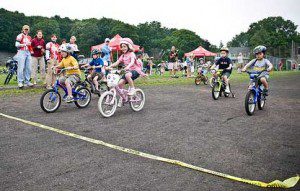 NEBC is an active participant in USAC district events, both on and off the bicycle. We keep our membership aware of important District activities and USAC developments and policy changes through regular representation at District meetings.
NEBC is also involved in community activities. In the communities we serve, NEBC wants to maximize the exposure of casual riders to bicycle racing, in the hopes that they will be bitten by the racing bug and join us, or at least that we will be able to improve their skills and thus increase their enjoyment of cycling.