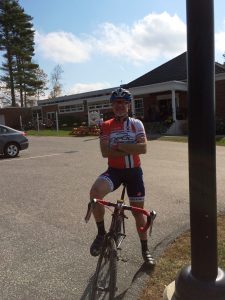 Big thanks to Tom Coughlan (Mt Ascutney Hill CLimb Organizer)
Hi everyone,
A big thanks to the club, and especially the volunteers, who made the revival of the Mt. Ascutney Hillclimb a big success last week. There were 88 registrants. (For comparison, the last time this event was held, in 2014, there were 94 riders. So we did pretty well for the first year back.)  There was steady rain through the day and night before the race, all the way through registration in the morning, then it stopped just in time for the race. By the time we got to the
top
, there was even a bit of blue sky. Even considering the rain, there were 74 riders who showed up and finished the race. (For those interested, the results are posted on road-results and on All Sports Timing.) There was a nice, friendly atmosphere. People were careful and respectful, so there were no mishaps.
This is the third of seven races in the BUMPS. We are hoping that this series will help to maintain, and even increase, interest in New England hillclimb races. This may have contributed to the success at Ascutney.
Next up in the series: Mount Washington, next Sat.. Then Kearsarge, Greylock, and Allen Clark (App. Gap).
As I mentioned in my earlier email, the success of an event like this depends on volunteers. So a special thanks to Julie, Jim, Matt, Marg, and Graham for stepping up, for consistently anticipating what needed to be done, and keeping things moving smoothly. The feedback has all been positive.
Thanks.
Tom Coughlan